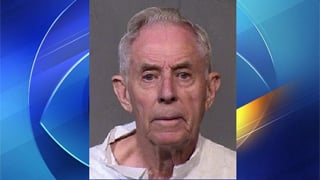 George Sanders (Source: Maricopa County Sheriff's Office)
PHOENIX (AP) -
A Sun City man accused of fatally shooting his ailing 81-year-old wife says she asked him to do it because she didn't want to spend the rest of her life in a nursing home.
Maricopa County Sheriff's officials on Monday released the interrogation videos of 85-year-old George Sanders.
He could face either probation or up to 12 1/2 years in prison when he's sentenced March 29.
Sanders pleaded guilty to manslaughter last month.
Virginia Sanders was found shot in the head inside the couple's home last Nov. 9 and died two days later in a hospital.
George Sanders told authorities it was a "mercy killing" because his wife had been suffering from multiple sclerosis for years and was in diminishing health.
He says his wife never wanted to outlive him.
Copyright 2013 Associated Press. All rights reserved.