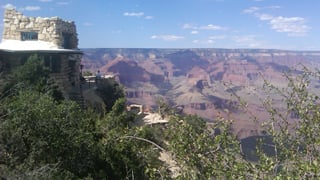 GRAND CANYON NATIONAL PARK, AZ (AP) -
A version of March Madness has critters at the Grand Canyon pitted against each other in a popularity contest.
Grand Canyon officials joked that the cougar won by such a wide margin Wednesday that the gopher snake might not come out if its burrow again. The striped skunk also beat out the golden-mantled ground squirrel.
Voting takes place on Grand Canyon National Park's Facebook page.
The elite eight matchups begin Friday.
The ring-tailed cat will face the bobcat, while the common raven takes on the bighorn sheep.
The California condor and a colorful songbird also remain in the competition.
The winner will be decided April 5.
Copyright 2013 Associated Press. All rights reserved.