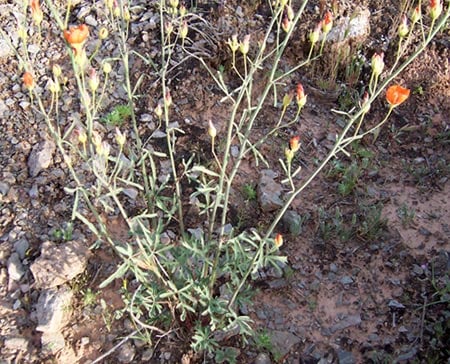 Gierisch mallow (Source: Tony Frates / Utah Native Plant Society / Utah Division of Wildlife Resources)
FLAGSTAFF, AZ (AP) -
The federal government is giving the public more time to comment on its proposal to list a wildflower found in northern Arizona and southern Utah as endangered.
The Gierisch mallow primarily is found on federal land in Utah's Washington county and Arizona's Mohave County. The 18 known populations are threatened by gypsum mining, off-road vehicle use and other activities.
The U.S. Fish and Wildlife Service announced plans last year to add it to a list of endangered species.
The agency says it now is accepting comments on the biology of and threats to the tall, wispy plant with orange flowers until April 29.
The plant had been listed as a candidate for protection under the Endangered Species Act in 2008, a year after environmentalists petitioned for protection.
Copyright 2013 Associated Press. All rights reserved.