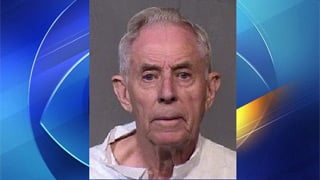 George Sanders. (Source: Maricopa County Sheriff's Office)
PHOENIX (CBS5) -
A Sun City man who said he shot his wife because she suffered unbearable pain was sentenced to two years of unsupervised probation.
George Frazey Sanders, 86, pleaded guilty to manslaughter Feb. 19 in the November shooting death of his wife, 81-year-old Virginia Sanders.
George Sanders was sentenced for the mercy killing Friday morning by Judge John Ditsworth after an emotional hearing that included tearful testimony from family members. George Sanders could have faced as many as 12 years in prison.
Maricopa County Sheriff's deputies found Virginia Sanders with a gunshot wound to the head Nov. 9, and she died two days later.
George Sanders told deputies his wife was experiencing excruciating pain from multiple sclerosis and that she begged him to shoot her.
The couple relocated from Washington state to Sun City in the 1970s shortly after her multiple sclerosis diagnosis because of the warm, dry climate, George Sanders said.
He said a doctor diagnosed his wife with gangrene in a foot only days before the shooting.
Sanders telephoned a caregiver and told her had shot his wife. The caregiver notified deputies and they arrested Sanders without incident at his home.
Copyright 2013 CBS 5 (KPHO Broadcasting Corporation). All rights reserved.