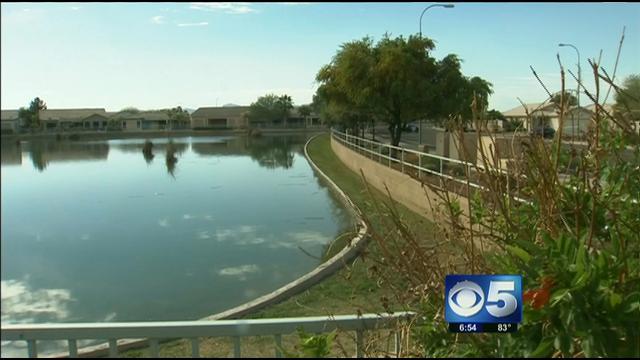 Lake where it happened near 107th Avenue and McDowell. (Source: KPHO-TV)
AVONDALE, AZ (CBS5) -
A West Valley woman and her granddaughter are expected to survive after they were pulled from a lake in Avondale on Saturday afternoon.
Police said Manju Chopra, 59, and 3-year-old Hamanssha Chopra were taking a walk around a lake near 107th Avenue and McDowell Road about 12:30 p.m. Saturday when the little girl fell in.
Officials said the 59-year-old grandmother, who can't swim, jumped in after her.
No one saw the little girl fall in, but people in the neighborhood were quick to react once they saw the girl and her grandmother face down in the water.
One neighbor called 911, while a man from the opposite side of the lake jumped in and pulled them from the water.
Manju Chopra was initially listed in critical condition at Banner Estrella Hospital, but her condition was upgraded to stable and she is expected to make a full recovery, Sgt. Brandon Busse of the Avondale Police Department said.
Hamanssha Chopra was stable and taken to Phoenix Children's Hospital as a precaution, Busse said.
Copyright 2013 CBS 5 (KPHO Broadcasting Corporation). All rights reserved.