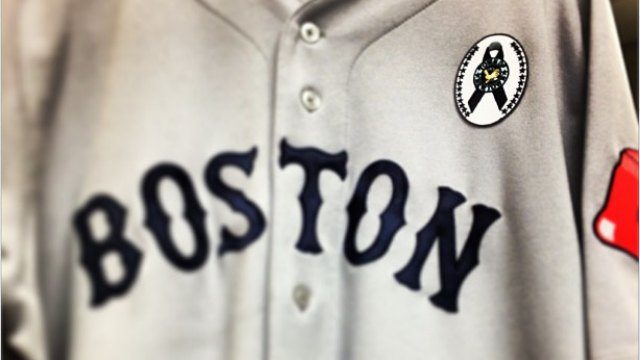 Here is a photo of the patch both teams will wear posted by the Red Sox on Twitter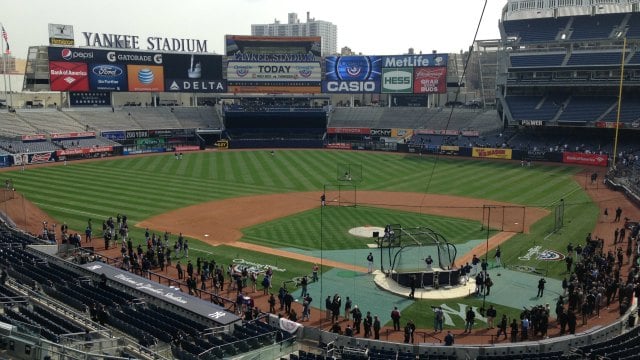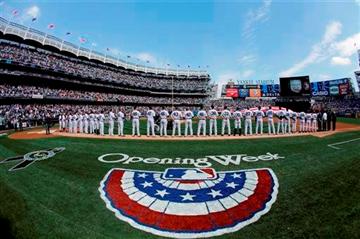 (AP Photo/Matt Slocum). New York Yankees players stand at attention during the national anthem before an opening day baseball game against the Boston Red Sox, Monday, April 1, 2013, in New York.
BRONX, NY (WFSB) -
It was an emotional Opening Day for the New York Yankees and the Boston Red Sox as they honored the victims of the tragedy at Sandy Hook Elementary School.
The teams held a moment of silence before the game and a huge ribbon was painted on the field. Both teams wore patches on their uniforms to pay tribute.
The idea was to give the first responders and the victims' families a break from dealing with the tragedy.
Yankee Stadium went silent as the names of the victims scrolled on the stadium's jumbotron. Some of the first responders and family members who continue to struggle with that day were in the stands.
Carlee Soto said her sister Victoria Soto the teacher who was shot and killed while shielding her first graders, made her family proud today. "Everyone stopped and everyone took a moment to remember those 26. It meant a lot."
Jillian Soto said it was amazing to see all the people stand and honor her sister Victoria and honor the 26 victims of Newtown. "It shows we're not going to forget. We're going to keep remembering what happened, and we're going to keep demanding change."
Newtown Police Detective Dan McAnaspie said these events help get their minds off the day to day in Newtown. "Stuff like this helps the families. It just takes the thoughts from the tragedy of that day."
This summer there will be another tribute called Newtown Day at Yankee Stadium so everyone in the community, including students who are in school today, can come to the park.
Copyright 2013 WFSB (Meredith Corporation). All rights reserved.