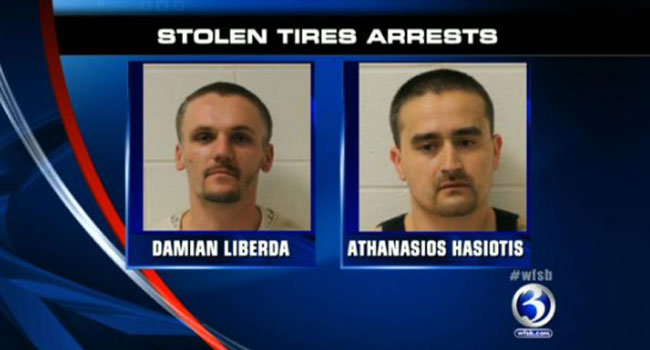 ? The following photos of Damian Liberda and Athanasios Hasiotis were provided by the Branford Police Department.
BRANFORD, CT (WFSB) -
Police in Branford hope two arrests over the weekend will bring a crime spree to an end.
Officers arrested Damian Liberda, 31, and Athanasios Hasiotis, 29, early Saturday morning after detectives used night vision equipment to monitor Branfon Honda on West Main Street.
Investigators said that dealership had been hit by thieves three times in March. Police added there were other thefts reported in Wallingford, Milford and Watertown.
In each case, tires or rims were stolen from new Hondas, police said.
"Our agency continues to couple crime analysis, predictive policing, state-of-the-art technology and good police work by dedicated officers to bring repeat offenders to justice," Branford Police Chief Kevin Halloran said.

Liberda, who has a long criminal history, and Hasiotis were charged with third-degree conspiracy to commit larceny and third-degree criminal attempt to commit larceny.
Liberda was also charged with third-degree trespass.
Both men were arraigned in New Haven Superior Court Monday morning.
Copyright 2013 WFSB (Meredith Corporation). All rights reserved.