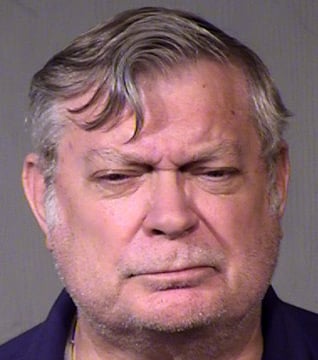 Russell Millsaps. (Source: Maricopa County Sheriff's Office)
PHOENIX (CBS5) -
A retired Mesa police officer charged with child molestation pleaded not guilty Monday morning.
Russell Millsaps, 66, a former police sergeant, was arrested March 14 after Mesa investigators said they found sexually graphic images of children 4 and 7 years old on his cell phone.
Investigators said a mole on one of Millsaps' hands matches one seen on the cell phone.
Millsaps, who spent 25 years with the Mesa Police Department, was demoted from sergeant to patrolman in 1980 and given a year of probation for allegedly smoking marijuana, though he didn't face criminal charges, Mesa police confirmed with CBS 5.
His latest run-in with the law came after Mesa police and Department of Homeland Security investigators served a search warrant on Millsaps' Mesa home in march.
He was booked into jail on four counts of child molestation and two counts of sexual exploitation of a minor.
Millsaps' next court date will be at 8:15 a.m. May 20.
Copyright 2013 CBS 5 (KPHO Broadcasting Corporation). All rights reserved.