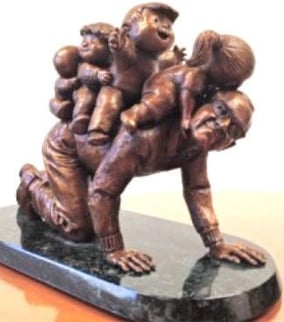 Model for the sculpture called "Giddy-Up-Daddy." (Source: Independent News Media)
PARADISE VALLEY, AZ (CBS5) -
Paradise Valley will be able to honor the creator of the Family Circus cartoon with a sculpture.
Bil Keane lived and worked in Paradise Valley. He died on Nov. 8, 2011.
CBS 5 News' media partner, Independent News Media, confirmed that a woman from Glendale has donated $20,000 to the project.
That brings the total to $78,000 - more than enough to build the 9-by-7-foot bronze statue at the Paradise Valley Municipal Complex, 6401 E. Lincoln Dr.
Keane's sons, Jeff and Glen, have created the model for the sculpture, called "Giddy-Up-Daddy," which was unveiled at a recent celebration of the cartoonist's life.
Copyright 2013 CBS 5 (KPHO Broadcasting Corporation). All rights reserved. Independent News Media contributed to this report.