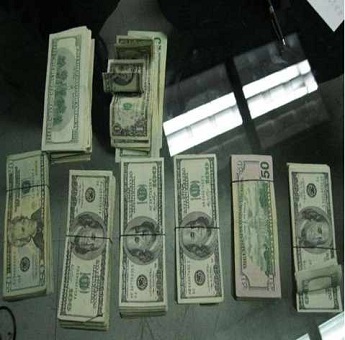 (Source: U.S. Customs and Border Protection) Money seized during border check.
NOGALES, AZ (CBS5) -
A 36-year-old Mexican female national was caught attempting to smuggle nearly $62,000 into Mexico Tuesday by U.S. Customs and Border Protections at the Nogales check point.
CBP was performing routine car checks on outbound vehicles from Nogales heading into Mexico Tuesday when then picked a Dodge sedan for further inspection. During the additional screening CBP agents noticed that the woman, Nancy Melina Lopez-Martinez who is from Nogales, Sonora, Mexico, looked to have something under her clothes.
What CBP agents discovered under Lopez's clothing were wrapped bundles of cash.
The unreported cash she had under her clothing totaled $61,850.
Lopez, the vehicle and cash were all turned over to state and local authorities for further processing.
Copyright2013 CBS 5 (KPHO Broadcasting Corporation). All rights reserved.