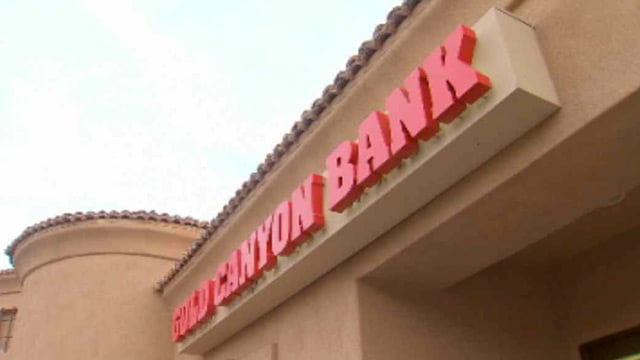 GOLD CANYON, AZ (CBS5) -
On Friday, Gold Canyon Bank shut down its two branches in Gold Canyon City and Peoria. On Monday, those banks will reopen as branches of First Scottsdale Bank.
On Sunday, members of the Federal Deposit Insurance Corporation were hard at work making sure everything was right for a smooth transition when First Scottsdale Bank opens its doors.
Bank customer Carmen Nelson said she isn't overly concerned about the change in ownership; however, she wasn't taking any chances either.
"I just took out $300 because that's the most you can take out of the ATM. I got $300 yesterday, too," said Nelson.
Rich Vogel is the CEO of First Scottsdale Bank. The financial institution's been around for about 2 1/2 years. Vogel said his company just acquired both branches of Gold Canyon Bank in the past week and is working to acquire another bank in Tucson.
"Withdrawals, checks, use of the ATM and ATM card, nothing's changed. I expect people coming in just like they did on Saturday and having a lot of questions. We're a small bank. We're a community bank. The only change is that they will be dealing with a much stronger financial institute," Vogel said.
Vogel said once the bank officially changes hands on Monday, its 1,500 customers will receive a letter in the mail notifying them of the change.
Copyright 2013 CBS 5 (KPHOBroadcasting Corporation). All rights reserved.