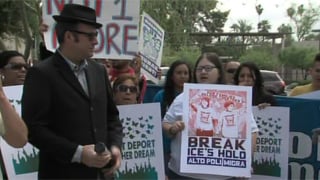 Protest rally outside ICE office in Phoenix (Source: KPHO-TV)
PHOENIX (CBS5) -
A rally outside the ICE office in Phoenix on Tuesday brought together several dozen families protesting the sheriff's department's employer sanctions raids.
Joining forces with Puente Arizona, the protesters called on Maricopa County Attorney Bill Montgomery to drop charges against the raided workers.
They called on ICE to use its discretion to grant deferred action to victims of Arpaio's raids.
The protest also featured the Los Angeles-based band La Santa Cecilia. It released a new music video Tuesday starring Katherine Figueroa and Erika Andiola, two Arizonans who have experienced the detention of family members.
Montgomery issued the following statement in the wake of the protest:
"While the individuals involved in the protest are exercising their First Amendment rights and focusing on their loved ones, identity theft is a real crime with real victims and that is the focus of this Office.
"Going from having the worst rate of identity theft in the nation in 2008 to the 8th worst in 2012 due mainly to the decrease in the number of incidents of employment-related fraud is evidence of successfully prosecuting these cases.
"While I will remain faithful to my oath of Office to uphold the U.S. constitution and the constitution and laws of Arizona, I will also advocate for fair and sensible federal immigration reform that secures our borders and protects our economy.
"I encourage all who share similar concerns about our failed immigration system to join me in this effort."
Copyright 2013 CBS 5 (KPHO Broadcasting Corporation). All rights reserved.