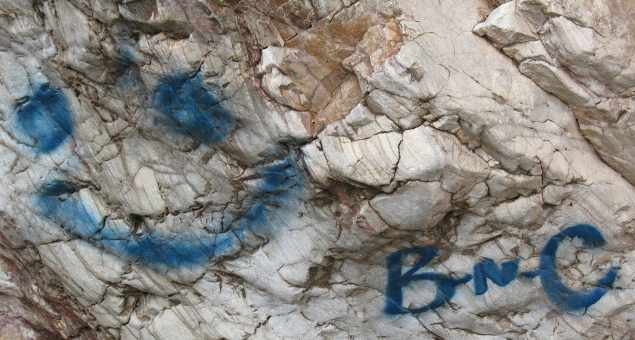 (Source: Bureau of Land Management Colorado River District Yuma Field Office)
(Source: Bureau of Land Management Colorado River District Yuma Field Office)
YUMA, AZ (CBS5) -
Blue spray paint was used to vandalize an archaeological site filled with petroglyphs just north of Blythe, CA, according to the Bureau of Land Management Colorado River District Yuma Field Office.
The site is filled with Native American petroglyphs, designs or figures that have been scratched into the rock's surface. The site also features sleeping circles, geoglyphs and rock alignments.
Vandals spray-painted images of either a horse or unicorn head, several smiley faces and what appears to be a marijuana leaf, said the BLM. In addition, the words "Sosa," "B+C" and the numbers "625" were also spray-painted across the site.
Native Americans hold the archaeological site sacred and take offense to the vandalism, just as they would have hundreds of years ago. The site will be restored by the government and is expected to cost several thousand dollars.
The BLM said their law enforcement department has started an investigation to find who vandalized the site. There is up to a $1,000 reward for information leading to an arrest. If you have any information regarding this incident call the BLM Law Enforcement Office at 928-317-3274.
Copyright2013 CBS 5 (KPHO Broadcasting Corporation). All rights reserved.