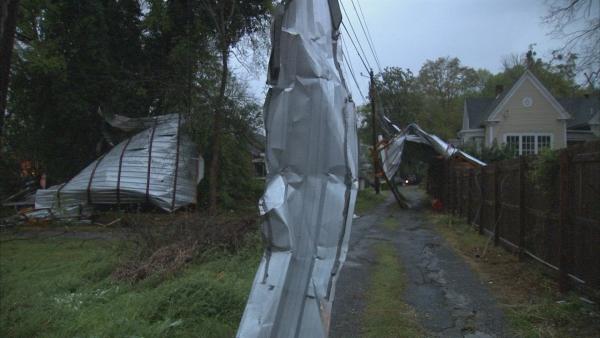 ROME, GA (CBS46) -
Workers at the Southern Pipe and Supply and Company in Rome began cleaning up damage from Thursday night's storm after high winds ripped the roof off.
The winds tossed pieces of the corrugated metal roof into trees and yards hundreds of feet away.
"It picked up and was over in a matter of seconds," said Bruce Hunter, whose home was nearly hit by the flying debris.
"I'll count that as a blessing," said Hunter.
No injuries were reported in Rome. Neighbors worked to clean debris that had come onto their homes.
"I cannot believe the devastation," said Dale Hurley, who works for the supply store. "Look at our roof, tin, wrapped around those trees like it was paper. It's amazing. Entire roof's gone, window's busted down. It's pretty rough inside."
Insurance adjusters arrived on site late Friday afternoon to assess the damage. The company expects to have the roof patched and electricity back on by Monday.
However, the building is historic so any major repairs must be approved by the local Historic Preservation Commission. The manager said that could take months.
Copyright 2013 WGCL-TV (Meredith Corporation). All rights reserved.