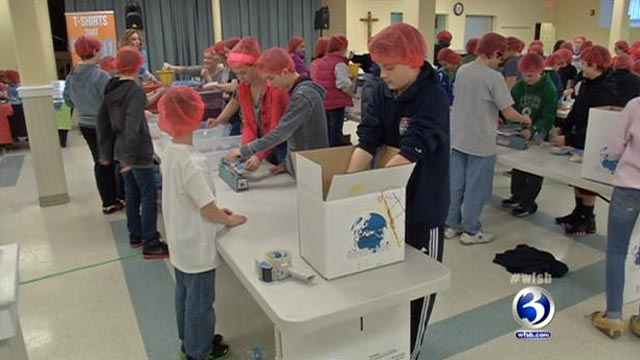 ROCKVILLE, CT (WFSB) -
More than 120 young people packed Saint Bernard Catholic Church last week in Rockville to lend a helping hand in putting together meals for those in need.
The group Feeding Children Everywhere held an event April 2 and assembled 10,000 meals to distribute to those in need in the local community, as well as for people in Africa.
"Together with Feeding Children Everywhere we are mobilizing all these students to come together to have a great time packing these super healthy meals," said Heather Yoreo, of Feeding Children Everywhere.
The meals were filled with lentils, rice and dehydrated vegetables.
The cost per meal - only 25 cents.
For more information about Feeding Children Everywhere, click here.
Copyright 2013 WFSB (Meredith Corporation). All rights reserved.