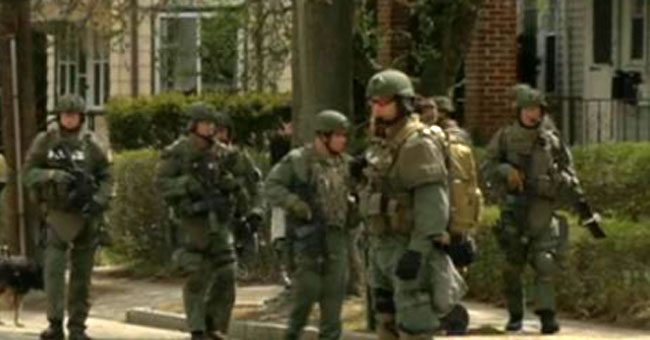 BOSTON (WFSB) -
The massive manhunt for one of the Boston Marathon bombing suspects involved military helicopters, SWAT and police canvassing the Greater Boston area.
Watertown's main shopping area turned into a landing site for military helicopters.
Police seemed to be in every square inch of Watertown as they search for one of the two bombing suspects who got away overnight when police closed in on them.
Some residents told Eyewitness News they saw a nonstop line of police cars chasing the two suspects into their town.
"There is probably nothing you can say that would describe it," said a Boston resident, who wished not to be identified.

Police all day have been swarming around Watertown, even searching inside people's homes.
Eyewitness News saw an endless amount of officers keeping the city locked down while they double back and look everywhere.
"I'm scared, because I'm not used to this," said an unidentified child. "Yeah, I'm scared."
The FBI has set up a tip line 1-800-CALL-FBI for any information on the suspect.
Copyright 2013 WFSB (Meredith Corporation). All rights reserved.