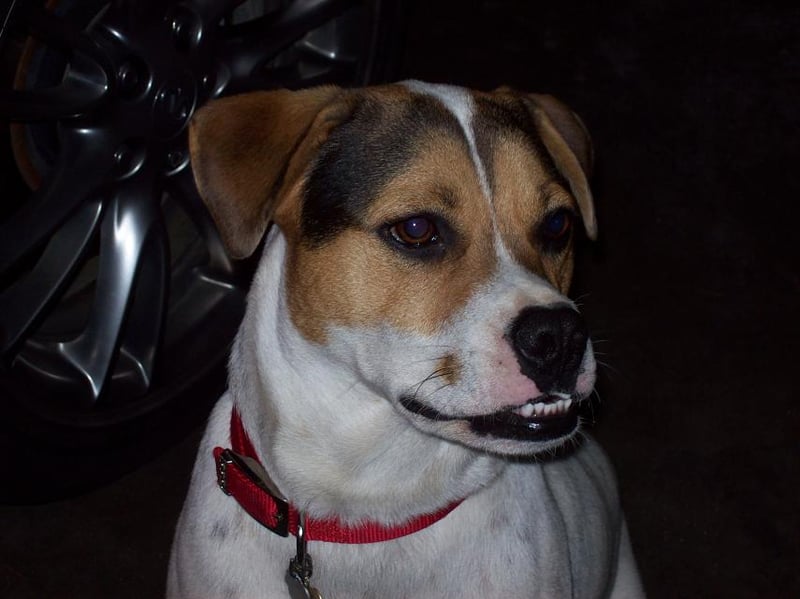 Here's a recent picture of Buddy with his new red collar. He plays around so much that his tags (in front) are bent.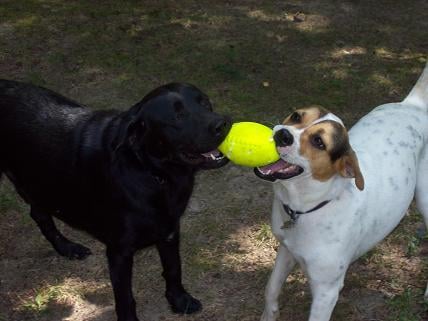 Here's the dynamic duo. Best friends - Buddy & Duke (the lab).
When Buddy & Duke aren't wrestling (rare), they enjoy some relaxation in the yard.
It's been a while since I've posted a story about our family dog - Buddy, so I thought I would share this one. Recently, my parents came to Greenville for a visit and it was good having them here. When they come, they often leave Buddy with my sister and her husband. My sister has a 2-year old Brittany Spaniel named Chloe. Buddy really enjoys being around all of them and it's a good change-up from his daily routine of visiting with all of our neighbors (which really means mooching food off of them) and of course visiting his best friend Duke (the lab down the road). As I have written about in the past, Buddy is quite manipulative without being annoying. And, he loves his habits and routines as my Mom and Dad have come to find out and as you will soon read about below.

____________________________________________________________________________

Wed. 9AM

Funny story about Buddy I wanted to pass on... he's such a creature of habit. Just as we've come to realize, don't ever do anything with him that you're not prepared to CONTINUE.

Last night we had put him on his bed in the kitchen/dining room area like normal. This is always followed by our saying "night-night Buddy," which is Buddy-code for: "okay, go to sleep now." After we did that, we went on back to our bedroom to brush our teeth and get ready for bed like normal. When I was finished doing that, I came out to our bed to turn back the covers to get in... and there sat Buddy just inside our BR door. He was lying on the carpet wagging his stub tail while watching me as if to say: "when I was at Chloe's (Janet's dog) house, I slept with them in their bedroom; how bout it?" His eyes say a lot! I ushered him back to his spot in the kitchen and reassured him that this is "the new normal." He did "get it" after that. :)
__________________________________________________________________________