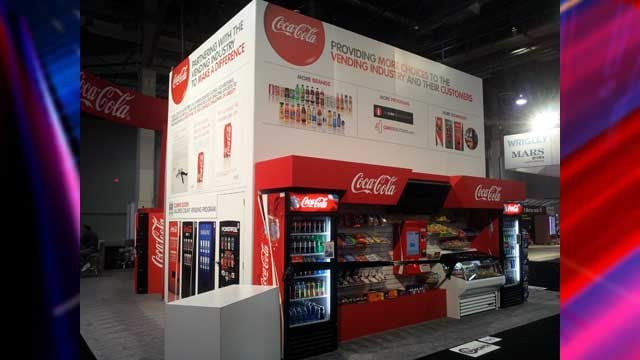 The latest vending systems and products you'll find inside are on display at the Sands Convention Expo through Friday. (Dave Lawrence/FOX5)
LAS VEGAS (FOX5) -
From headphones to candy bars, to iPods to mints, you can now buy pretty much anything from a vending machine. The latest vending systems and products you'll find inside are on display at the Sands Convention Expo through Friday.
There was once a day when it was a bag of chips or a selection of sweets to choose from behind the glass. Now it's a $42 billion a year industry and many of the displays aren't even glass. Some are touch screens, many have cameras and some are even interactive.
A company called Dijitouch has vending machines on the market that not only offer up a bag of Oreos, but also a picture of a dessert you can make using Oreos. You can then click on the QR code, which is a square box on the screen, and the recipe will be sent to you wirelessly.
Also on display at the convention are products like French fry vending machines that use heat instead of oil to deliver you tasty fries in just seconds. Pizza, ice cream, coffee, pastries, whatever you want is available at the touch of a button.
One of the big trends in vending is cell phone integration with not only the teaming up of your Facebook or Twitter accounts, but also wireless payment systems.
Copyright 2013 KVVU (KVVU Broadcasting Corporation). All rights reserved.