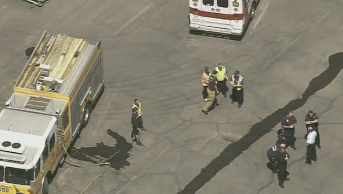 Electrocution near 50st Avenue & Camelback Road (Source: KPHO-TV)
GLENDALE, AZ (CBS5) -
A worker is dead of an apparent electrocution when he came in contact with live wires working on a roof, Glendale police said.
The accident happened at a manufacturing plant near 51st Avenue and Camelback at around 11:20 a.m. Thursday,
Firefighters said the man was welding when he somehow touched the wire and was shocked.
He was badly burned and fell 20 feet to the ground, fire authorities said.
He was pronounced dead at the scene. State worksite safety investigators will be investigating the incident.
Traffic lights and power was out in the area from Bethany Home Road south to N. 63rd Avenue. SRP was working to restore power.
Copyright 2013 CBS 5 (KPHO Broadcasting Corporation). All rights reserved.