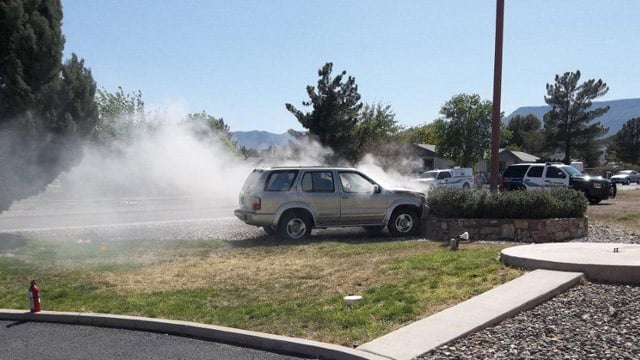 A Cottonwood woman is suspected of driving under the influence with her son in the vehicle before crashing into this barrier in Cottonwood. (Source: CBS 5 News)
COTTONWOOD, AZ (CBS5) -
A Cottonwood woman is suspected of driving under the influence of alcohol and medication with her 4-year-old son in the vehicle before a one-car crash at a Cottonwood intersection Tuesday afternoon.
Robyn Wheeler, 24, was arrested on suspicion of aggravated DUI with pending charges of DUI and child abuse.
A man told police Wheeler was traveling in a silver Infinity SUV about 10 mph when the vehicle accelerated and struck a circular barrier around a cross about 2:30 p.m. The man said Wheeler was unconscious, but he was able to get her son out of the car.
The responding officer said he recognized Wheeler from a single-vehicle collision earlier in the day and told her not to drive on her medication.
After the later incident, the officer said Wheeler told him she was trying to open a soft drink can for her son when she blacked out from her medication just before the crash.
Wheeler refused medical treatment but agreed to field sobriety tests and was arrested on suspicion of DUI (sedatives and alcohol). The child was turned over to his father, the officer said.
A blood sample was sent to the Arizona Department of Public Safety lab for processing.
Wheeler was released on her own recognizance.
Copyright 2013 CBS 5 (KPHO Broadcasting Corporation). All rights reserved.