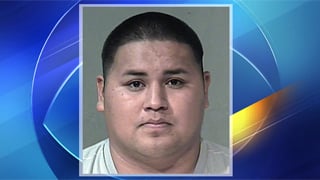 Amos Andreas (Source: Maricopa County Sheriff's Office)
PHOENIX (CBS5/AP) -
A Phoenix man has been sentenced in the 2011 shaking death of his 4-month-old daughter.
Judge David Gass sentenced Amos Andreas Wednesday morning to 16 years in prison and lifetime probation, as part of a plea agreement, a Maricopa County Superior Court spokesman said.
Andreas pleaded guilty in April to second-degree murder and attempted child abuse.
The girl died Aug. 15, 2011, three weeks after Andreas and the girl's mother took her to Phoenix Children's Hospital on July 22.
Andreas said the girl was sleeping on his chest when she fell on the floor the night before.
However, a forensic pediatrician found that the girl's injuries were consistent with being shaken.
Police confronted Andreas, and they say he admitted to waking up to find his daughter on the floor and getting upset with himself.
Andreas told police that he then picked the girl up, saw that she had a shocked look on her face and that he shook her "pretty hard" twice.
Copyright 2013 CBS 5 (KPHO Broadcasting Corporation). All rights reserved. The Associated Press contributed to this report.