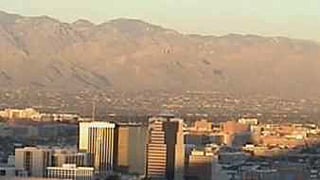 TUCSON, AZ (AP) -
Authorities say a woman is in custody in connection with a bomb hoax that led to a large evacuation in midtown Tucson.
Tucson police say a charter school, a behavioral health center and other businesses were evacuated after a suspicious backpack was reported in a parking lot about 1:40 p.m. Thursday.
Police say one of the 911 calls was from a woman who claimed the bag contained a bomb.
They say an explosives ordnance team used a device to tear open the backpack, which contained clothing and personal belongings.
Police say 46-year-old Esther Bergin has been booked into the Pima County jail on suspicion of making a hoax claim to police.
They didn't immediately know Friday if the Tucson woman has an attorney yet.
Copyright 2013 The Associated Press. All rights reserved.