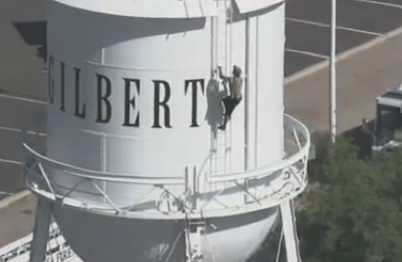 GILBERT, AZ (CBS5) -
Police have arrested a man who climbed to the very top of the Gilbert water tower Monday.
The incident caused southbound traffic on Gilbert Road between Guadalupe Road and Elliot Road to close Monday morning.
The Gilbert Police Department called for additional help from the Phoenix fire ladder truck 9, a high-rise truck that would allow them to reach the man on the tower. Before the ladder truck arrived on scene, Gilbert police were able to get the man off of the tower.
A Gilbert Police Department spokesperson said Donald Christie, 35, was taken down without incident and is suspected of being under the influence of drugs. Gilbert police said he was making incoherent statements and he claimed to be fixing the tower.
Gilbert police said he is facing a charge of criminal damage for breaking a part of the tower.
Copyright2013 CBS 5 (KPHO Broadcasting Corporation). All rights reserved.