(Source: U.S. Customs and Border Protection)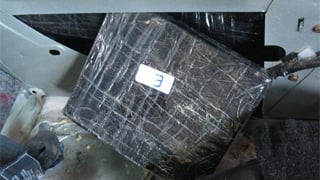 (Source: U.S. Customs and Border Protection)
NOGALES, AZ (CBS5) -
Federal authorities seized $969,000 in heroin and methamphetamine in two separate failed attempts over the weekend to smuggle narcotics across the border.
Lucio Leonardo Valle-Bustamante, 37, was arrested after a U.S. Customs and Border Protection drug-detection K-9 alerted officers to more than 61 pounds of methamphetamine.
Officers located 48 packages of the drug hidden throughout Valle's vehicle when he attempted to enter through the Mariposa Port in Nogales. The estimated value of the seizure was nearly $951,000.
Loribeth Torres, 34, was arrested Saturday night after a service K-9 alerted to more than a pound of heroin in her clothing.
Torres was attempting to cross the U.S. border through pedestrian lanes at the Dennis DeConcini Port. The drugs were valued at nearly $17,000. Officers seized the vehicle and drugs.
Valle and Torres were referred to U.S. Immigration and Customs Enforcement's Homeland Security Investigations.
Copyright 2013 CBS 5 (KPHO Broadcasting Corporation). All rights reserved.