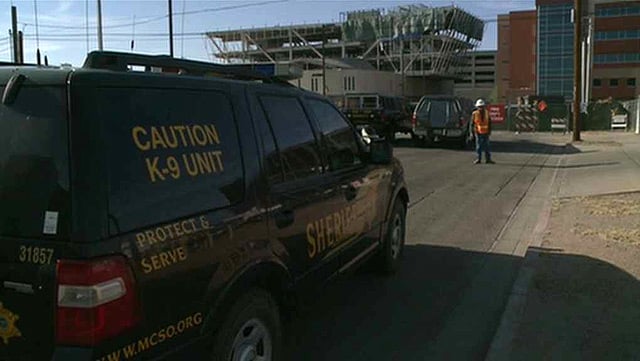 A bomb squad and bomb-sniffing dogs were at the construction site of the new Maricopa County Sheriff's Office headquarters after a written bomb threat was found. (Source: CBS 5 News)
PHOENIX (CBS5) -
A bomb threat spray-painted on the side of the new Maricopa County Sheriff's Office headquarters under construction proved to be baseless after a bomb squad and bomb-sniffing dogs combed the entire structure.
Deputies said the threat was among a series of messages painted on the concrete walls near Sixth Avenue and Jackson Street.
The search turned up nothing more than a lunch box containing water and safety glasses.
The message included: "Bomb inside. No Work Today. Happy May Day. Stop building prisons for other workers."
Deputies said the building was evacuated during the search.
The threat came about two weeks after another threat against Sheriff Joe Arpaio.
In April, a package addressed to Arpaio at his downtown office contained an explosive device, but was intercepted before it was opened.
A courier in Coconino County brought the package to the main post office in Flagstaff where it was X-rayed and determined to have contained a bomb. It was neutralized and no one was injured.
Copyright 2013 CBS 5 (KPHO Broadcasting Corporation). All rights reserved.