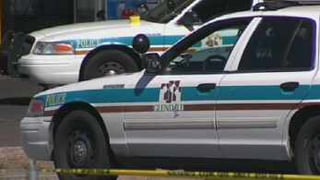 CBS 5
GLENDALE, AZ (CBS5) -
Two gunmen who stole $15,000 in merchandise from a Glendale cell phone store Monday remain on the loose, police said.
Glendale police detectives need help solving the crime that took place just before 1 p.m. at the T-Mobile Store at 7708 W. Bell Rd.
The robbers got away with phones, accessories and cash after pointing handguns at the store employees. They had waited for most of the customers to leave before executing the holdup, according to Glendale police Sgt. Brent Coombs.
Both suspects are Hispanic men. One of them appeared to be in his late teens or early 20s. He is described as more than 6' tall and very thin. He was wearing a white polo shirt with "3" on the right sleeve, blue jeans and a white ball cap. Employees of the business described this suspect as having several days growth of facial hair, but that there was some sort of circular type of design shaved into the cheek areas of that beard. He was also described as very frail or possibly suffering from some sort of ailment.
The other suspect was also in his late teens or early 20s. He is between 5'6" to 5'8" tall and was last seen wearing jeans and a black ball cap.
People with information about the crime or suspects are asked to call the Glendale Police Department at 623 930-3000 or Silent Witness at 480-Witness.
Copyright 2013 CBS 5 (KPHO Broadcasting Corporation). All rights reserved.