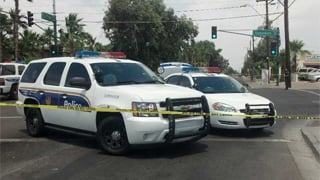 Hit-and-run scene at 37th Avenue & Camelback Road. (Source: Christina Batson, cbs5az.com)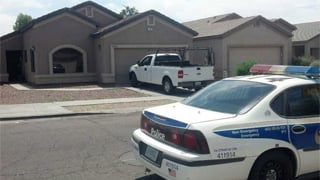 Woman chases suspect to 4200 clock of West Oregon. (Source: Christina Batson, cbs5az.com)
PHOENIX (CBS5) -
A Phoenix woman and her two children were hurt after they were struck by a pickup truck while crossing the street Sunday morning, police said.
The group was in a crosswalk at 37th Avenue and Camelback Road at about 11:15 a.m. when they were hit, said Phoenix police Lt. Emilien Sapon. The children, ages 2 and 5, suffered bumps and bruises, Sapon said. They are in stable condition.
The woman, who was slightly injured, confronted the driver, Sapon. said. The driver fled.
"We don't know why the driver fled," Sapon said.
The mom then apparently hitched a ride with a witness and followed the pickup to the 4200 block of West Oregon, Sapon said.
Officers arrived and detained the suspect.
At one point, police said the woman became upset, grabbed the metal top of a trash can and cracked the windshield of Phoenix fire truck, Sapon said.
The woman was detained and taken to the hospital. She's expected to be OK.
Copyright 2013 CBS 5 (KPHO Broadcasting Corporation). All rights reserved.