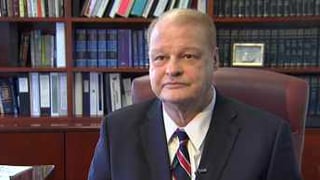 PHOENIX (AP) -
Arizona Attorney General Tom Horne says he's pleaded no contest to a misdemeanor hit-and-run charge filed after FBI agents apparently trailing him in a campaign finance case saw him back into a parked SUV while driving a borrowed car.
Horne issued a statement Wednesday saying he paid a $300 fine. He also said if he had known he had damaged the Range Rover he would have left a note for the vehicle's owner.
Horne's case in Phoenix City Court had been repeatedly delayed as his lawyers took depositions from the FBI agents and asked a judge to thrown the case out for selective prosecution.
The FBI agents who were following Horne in March 2012 refused to say exactly why they were following him when questioned by Horne's attorney.
Copyright 2013 Associated Press. All rights reserved.