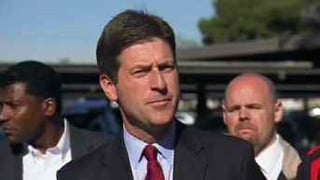 PHOENIX (AP) -
Phoenix Mayor Greg Stanton will get a firsthand look at what it's like for some of the city's homeless veterans.
He will spend Thursday night at a shelter run by the Madison Street Veterans Association. He'll go through the intake process as a homeless veteran and stay in an open bay along with other veterans.
Stanton says it's unacceptable for veterans to be homeless. He says it's a priority for his office to find ways to end homelessness in Phoenix, which is the sixth largest city in the U.S.
During his first two years in office, Stanton hired a senior policy adviser on homelessness and vulnerable populations. He also has participated in the Maricopa County Homeless Count, spent a week living on food stamps and worked on jobs fairs aimed at getting veterans hired.
Copyright 2013 Associated Press. All rights reserved.