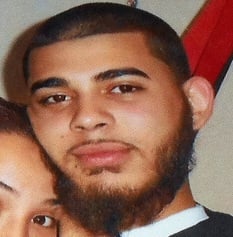 BRIDGEPORT, CT (WFSB) -
Police in Bridgeport are searching for the person responsible for shooting and killing a local father right outside his home.
According to police, 22-year-old Robert Rivera was found shot to death inside a Ford Fusion parked on Berkshire Avenue near Noble Avenue.
Police said the vehicle had multiple bullet holes in its left front window and door area.
Rivera was suffering from several gunshot wounds, police said. He was pronounced dead at the scene by medical personnel.
Friends of Rivera said the car did not belong to him and they believe the bullets were intended for someone else.
Rivera's wife and young daughter were not home at the time of the shooting. According to friends, they are in Florida and he was waiting for them to come home.
Anyone with information into the shooting is urged to contact Bridgeport police.
Copyright2013 WFSB (Meredith Corporation). All rights reserved.