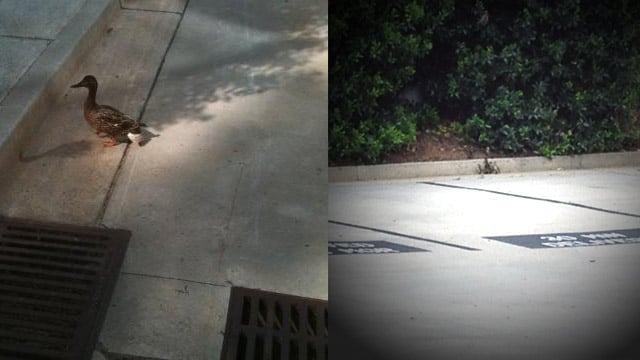 Left: Mother duck (Courtesy: PETA) | Right: Ducklings (Courtesy: Alpharetta Fire Department)
ALPHARETTA, GA (CBS46) -
Firefighters in Alpharetta received an award from the People for Ethical Treatment of Animals after quickly saving ducklings that had fallen down a storm drain.
On Thursday, PETA called the fire department when a member reported a mother duck had become frantic after her babies fell down a storm drain.
Minutes later, fireman arrived and removed the grate. One of the firefighters climbed down into the drain and scooped up all eight ducklings and carefully placed them in a cat carrier.
The crew released the ducklings a safe distance from the drain just as their mother flew by to retrieve them.
According to PETA, less than 30 minutes passed from the time that PETA placed the phone call until the duck family was safely reunited.
"Thanks to their dedicated and swift action, these firefighters took what could have ended in tragedy and turned it into the happiest possible Mother's Day for a loving mother duck and her family," says PETA Associate Director of Cruelty Investigations Stephanie Bell. "Alpharetta is very fortunate to have first responders who are ready to protect and serve all residents— including the ones with wings."
The firefighters received PETA's Compassionate Fire Department Award, which includes a framed certificate, a letter of appreciation and a box of vegan chocolates.
Copyright 2013 WGCL-TV (Meredith Corporation). All rights reserved.