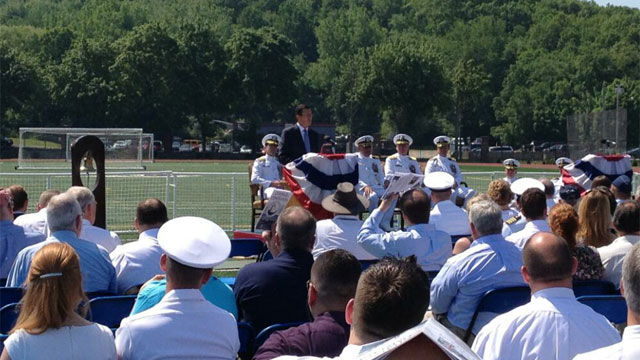 The following photo was provided by the governor's office Twitter account.
GROTON, CT (AP) -
The Navy's submarine base in Groton has welcomed a new commanding officer.
Navy Capt. Marc Denno has been commander since June 2009, longer than any of his predecessors. His replacement, Capt. Carl Lahti was sworn in at a ceremony Friday morning on the base.
Groton hosts 15 attack submarines and is the nation's first submarine base. During Denno's tenure, the base undertook infrastructure projects and improvements worth close to $200 million.
Denno is leaving for a position on the staff of the Naval War College in Newport, R.I.
Lahti, is a Buffalo, N.Y. native who comes to Groton after serving at the Pentagon. He also served previously on the submarines USS Miami, USS Dallas and USS Memphis.
Copyright 2013 The Associated Press. All rights reserved. This material may not be published, broadcast, rewritten or redistributed.