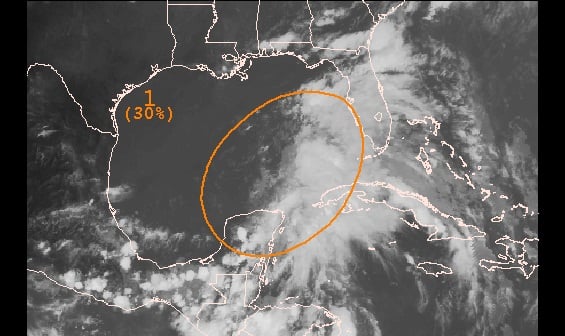 There's no doubt we're dealing with humid conditions outside early this week, but that humidity will actually increase later on this week.
A tropical system currently positioned just north of the Yucatan Peninsula bares watching as a probable key feature in our forecast for later this week. As of now, the complex of thunderstorms has no low-level circulation which keeps it from becoming the first named storm of the season. Andrea would be the name if it acquires a low-level center during the next few days.

This un-named system will slowly move north-northeast during the next 48-hours. On this path, it should be positioned just southeast of the Florida panhandle by Thursday (and may be named by then). Importantly, in a geographical sense, that position puts us on the eastern side of this system. The eastern side is the side with the highest moisture-content as tropical humidity is drawn north from the Gulf of Mexico and tropical Atlantic east of Florida.
It's safe to say that we will most likely deal with more cloud-cover, more numerous downpours and scattered storms and some lower temperatures by Thursday, Friday and Saturday. It looks as though the tropical system will merge with another disturbance and move north of us after that which should return us to more typical early June conditions.
Nicole will be in tomorrow morning to keep tabs on the latest as we watch this tropical disturbance.
____________________________________________________________________________