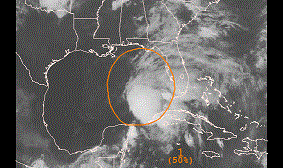 Tropical Update: A broad area of low pressure is now centered in the Gulf of Mexico, and is already producing a large area of thunderstorms and strong winds in the eastern Gulf. The circulation around the low is still not significant enough to make this a "named" storm, though the National Hurricane Center states there is now an increased chance, up to 50%, that the system could become a subtropical or tropical cyclone over the next 48 hours. Wednesday afternoon, Hurricane Hunters are set to fly into the area to take measurements for the latest details.
What this means for us: The system, named or not, is slowly moving north-northeast, and is currently pushing cloud cover and isolated rain showers into the southeastern US. Our already humid air is being added to by the Gulf moisture, so we will continue to see isolated showers now through early afternoon. A few thunderstorms could pop in later in the day as well, as enough instability will be present in the Upstate to spark storms. Highest instability readings lie in the mountains of Western NC. We'll continue to see scattered showers/storms overnight.
Forecasting: There is no doubt that we'll continue to see potential for rain and storms through the remainder of the week, with a good amount of cloud cover as well. But, with the uncertainty in the forecast path of the Gulf system, as well as the timing of a frontal boundary to approach the Upstate from the Midwest, we are waiting on the latest data to come in to determine exactly how much rain we will see. For now, it looks as though we'll see scattered storms today and tonight, as well as early Thursday. More consistent rain/storms should move in late Thursday into the evening. If the Gulf moisture continues on a more northward path, we could end up with a few solid inches of rain from start to finish. However, if it hugs the east coast more closely, which some models are beginning to show, we would see on & off rain showers/storms, but rain totals would be cut way down. We'll see if the Hurricane Hunters can give us more information later this afternoon. Stay tuned.