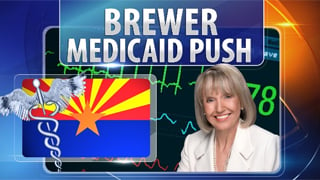 CBS 5 News
PHOENIX (AP) -
An Arizona House panel dominated by conservative Republicans has rejected Gov. Jan Brewer's plan to expand Medicaid to 300,000 additional poor residents.
The 7-4 vote to reject a budget bill on health spending containing the expansion means the full House will have to revive Brewer's No. 1 priority.
Between Democrats and a handful of moderate Republicans there appear to be the votes to do just that. A similar coalition passed the bill out of the Senate last month.
The bill rejected by the Appropriations Committee Monday would have authorized Brewer to expand Medicaid to people making between 100 percent and 138 percent of the federal poverty line under terms of President Barack Obama's health care overhaul law.
Brewer wants to use a hospital assessment to pay for the state's share.
Copyright 2013 Associated Press. All rights reserved.