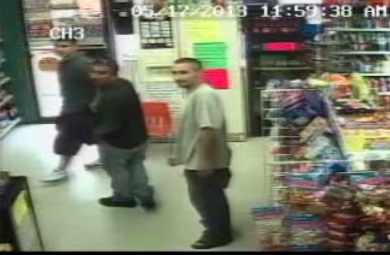 (Source: Surveillance video from the Smoke Shop Market)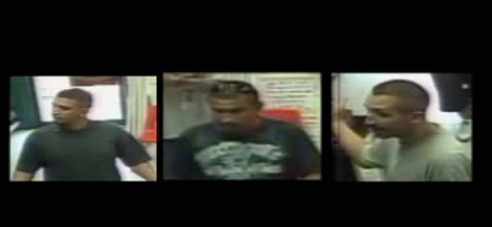 (Source: Surveillance video from the Smoke Shop Market)
PHOENIX (CBS5) -
Three suspects are wanted in connection to an attempted armed robbery at the Smoke Shop Market located at 2500 N. 32nd St. in Phoenix on Friday, May 17, 2013.
Friday morning the first two suspects walked into the Smoke Shop Market and asked the employee if they could use the phone. The employee handed the phone to the first suspect who made a call. The employee told Phoenix police during the suspect's phone call a third suspect walked into the shop and took the phone out of his hand.
The Smoke Shop Market employee attempted to get the phone back from the suspects when the third man pulled a gun out of his waistband and punched the employee, according to police.
During the scuffle the second man also pulled a gun out and both suspects pointed their guns at the employee, said police. The employee told police that one of the suspects handed his gun to the man without one and tried to get him to fight.
Police said that he employee did not fight any of the men. Once the suspects were unable to get the employee to fight they left the scene, possibly in a blue Dodge Charger, according to Phoenix police.
The suspects descriptions are:
Suspect 1: Hispanic male, wearing a light gray shirt with blue jeans
Suspect 2: Hispanic male, wearing a dark gray shirt and had a handgun
Suspect 3: Hispanic male, wearing a dark gray shirt and had a handgun
If you have any information regarding this case you may contact Silent Witness at WITNESS, that's 480-948-6377, or toll free at 1-800-343-TIPS. You can also leave an anonymous tip on the silent witness website at silentwitness.org. Remember, you remain completely anonymous and could earn a cash reward for information leading to the arrest and/or indictment of the suspect/s of this crime.
Copyright 2013 CBS 5 (KPHO Broadcasting Corporation). All rights reserved.