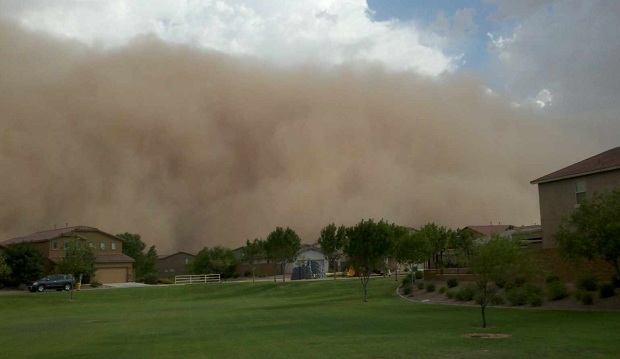 Giant wall of dust (Source: Luis Jacinto)
PHOENIX (CBS5) -
It is that time of year when dust storms take over the Valley, so to help spread the word about dust storm safety, Arizona's Department of Transportation has launched their second Haboob Haiku Challenge.
For the second year ADOT is asking people to get creative and submit their haboob haiku to ADOT's social media sites. ADOT launched their Pull Aside, Stay Alive dust storm campaign Monday as part of their Arizona Monsoon Awareness Week.
Last year more than 600 haboob haikus were submitted and featured worldwide. The haikus are used to help remind drivers about the dangers of the giant dust storms along with the monsoon storms.
You can submit your Haboob Haiku on ADOT's twitter page using #HaboobHaiku, ADOT's Facebook page or ADOT's blog. ADOT is using the Haboob Haikus to help enhance public safety awareness that encourages drivers to avoid driving into or through a dust storm. ADOT encourages drivers to pull over and wait out a dust storm versus driving through a dust storm.

A haiku is Japanese poetry that follows the traditional rules of three lines of five, seven and five syllables, respectively.
Copyright 2013 CBS 5 (KPHO Broadcasting Corporation). All rights reserved.