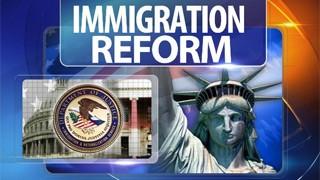 PHOENIX (CBS5) -
The Senate has taken its first vote on immigration reform legislation. The bill would create a 13-year path to citizenship for most of America's 11 million undocumented immigrants. If the bill passes it could open the door of citizenship to millions of undocumented workers nationally, including 210,000 here in Arizona.
Jennings Strouss labor and employment attorney John Egbert said right now, the construction and service industries have the highest number of undocumented employees, but if this bill passes, he said that would change.
"I think once they have legal status and they're authorized to work, there's nothing that will prevent them from working in other types of areas that otherwise would have been more risky for them to try," Egbert said.
He said that would mean more competition and with that, lower pay. Egbert said he also expects there would be an increase in the number of people taking advantage of employment benefits.
"I think there will be some impact in terms of the level of workers comp claims," he said.
A study by The Real Arizona Coalition showed if passed, the immigration reform legislation would increase tax revenues by $1.68 billion in Arizona.
Copyright 2013 CBS 5 (KPHO Broadcasting Corporation). All rights reserved.