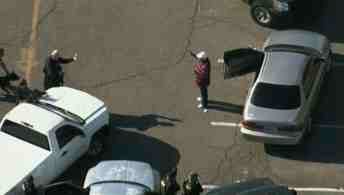 Driver surrenders without incident. (Source: CBS 5 News)
PHOENIX (CBS5) -
A motorist who led officers on a chase tossed methamphetamine out the window before he could be pulled over, Phoenix police said.
The man offered no resistance as he was taken into custody.
The chase started about 4:30 p.m. Wednesday. A patrol officer saw a traffic violation and conducted a traffic stop near 27th Avenue and Buckeye.
As the officer approached the vehicle on foot, the driver backed up almost hitting him and the patrol vehicle, police investigators said. The driver then fled in his vehicle.
Officers tried to stop him but he continued to flee. Police mobilized their helicopter which followed the vehicle.
It was at this point officers in the air unit saw the driver toss out the meth.
The driver finally stopped near 21st Avenue and Cactus.
The man, who was not identified, was booked into jail on charges of aggravated assault on a police officer, felony flight, possession of methamphetamine and outstanding warrants for a parole violation.
Copyright 2013 CBS 5 (KPHO Broadcasting Corporation). All rights reserved.