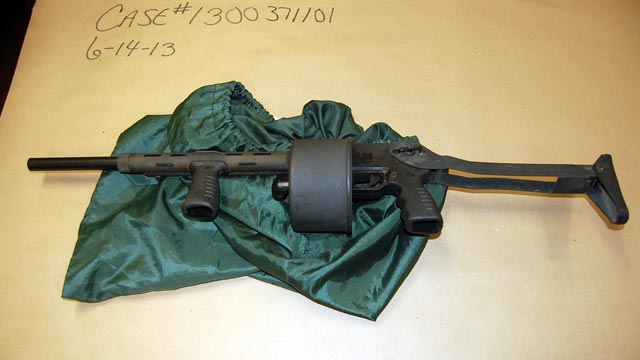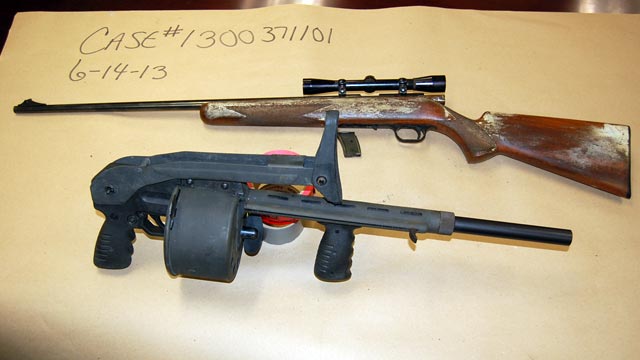 BRIDGEPORT, CT (WFSB) -
Members of the Connecticut State Police Gang Unit arrested four men Friday and said they seized a combat shotgun with a 20-round drum, and a .22 caliber rifle.
Police said the gang unit had been investigating in the area of Yaremich Drive in the north end of Bridgeport when they said they got word of an assault weapon inside a vehicle.
Surveillance was set up in the area and said they found several men standing around two vehicles. After a short period of time, officials said they received information the assault weapon was inside one of the vehicles. Task force members said they then saw two men walking with a green bag that contained the weapon and was being transported from one vehicle to another.
Once the weapon was placed into the second vehicle, officers moved in and arrested the four men.
They ended up seizing a Cobray Streetsweeper 12-gauge semi-auto shotgun with pistol grip, a 20-round drum and collapsible stock. In the other vehicle, police said officers located the .22 caliber Browning rifle with a scope in the trunk.
Police are not identifying the men arrested because it's an ongoing investigation, but said they were charged with criminal possession of a firearm, criminal possession of an assault weapon, having a weapon in a motor vehicle and one of the men had an outstanding arrest warrant.
Bonds for the men ranged form $100,000 to $25,000, according to police.
Copyright 2013 WFSB (Meredith Corporation). All rights reserved.