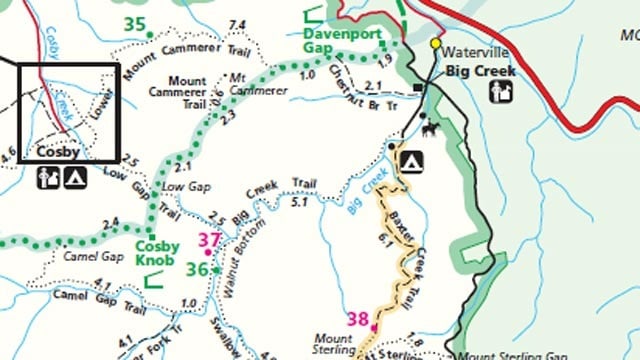 Our third tornado of the season has been officially confirmed by the National Weather Service. Back on June 13th, a wicked line of storms produced a Tornado Warning in Haywood county, NC. After surveying damage, officials have stated that an EF-1 tornado touched down in the Big Creek area of the Smokey Mountains National Park just after 4pm. The survey team, comprised of people from the NWS as well as the UNC-Asheville Atmospheric Sciences Department found extensive tree damage 3.5 miles up from the Deep Creek Trail to the Deep Creek Campground. They reported that hundreds of small trees were snapped at a height 10-20 feet above the ground, as well as large trees being uprooted along a 1/2 mile section of the trail. They estimated the maximum wind speed to have reached 100mph, and 100 yards wide at the tornado's broadest width. The length of the tornados path is still being determined.
Here's a link showing where the Big Creek Trail is located (NOTE: this is not the exact tornado path): http://web.eecs.utk.edu/~dunigan/gsmnp/googlegsmnp.php?lat=35.72928&lon=-83.14673&mt=3&scale=13&trail=BigCreek
Previously this year, Piedmont, SC saw an EF-1 tornado touch down with max winds of 90mph touch down, and the Centerville area of Anderson county also saw an EF-1 with max winds of 95mph.