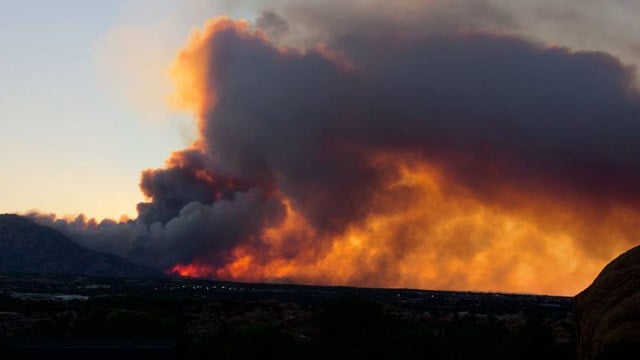 Gov. Jan Brewer declared a state of emergency for Yavapai County, where the Doce Fire is burning. (Photo: Robert Jones)
PHOENIX (CBS5) -
Arizona Gov. Jan Brewer has declared a state of emergency for Yavapai County in the wake of the fast-growing Doce Fire northwest of Prescott.
Brewer signed the declaration of emergency Thursday, making $100,000 available from the governor's state emergency fund and authorizing the state adjutant general to mobilize the Arizona National Guard to protect life and property.
Federal Emergency Management Agency approved Arizona's request for a Fire Management Assistance Grant and makes available federal funding to reimburse 75 percent of the state's costs for fire suppression and related actions, such as evacuations and sheltering operations.
The declaration directs the following actions:
Declares that a state of emergency exists in Yavapai County because of the Doce fire, effective June 18, 2013, and continuing until suppression.
Directs that the sum of $100,000 from the general fund be made available to the Director of the Arizona Division of Emergency Management to be expended in accordance with A.R.S. § 35- 192, A.A.C. R8-2-301 to 321, and Executive Order 79-4.
Directs that the State of Arizona Emergency Response and Recovery Plan be used to direct and control state and other assets, and authorizes the Director of the Arizona Division of Emergency Management to coordinate state assets.
Authorizes the Adjutant General to mobilize and call to activate all or such part of the Arizona National Guard as is determined necessary to assist in the protection of life and property throughout the state.
The Doce Fire was 0 percent contained and had burned nearly 6,500 acres by Thursday morning. It has threatened a number of homes and communities.
Copyright 2013 CBS 5 (KPHO Broadcasting Corporation). All rights reserved.