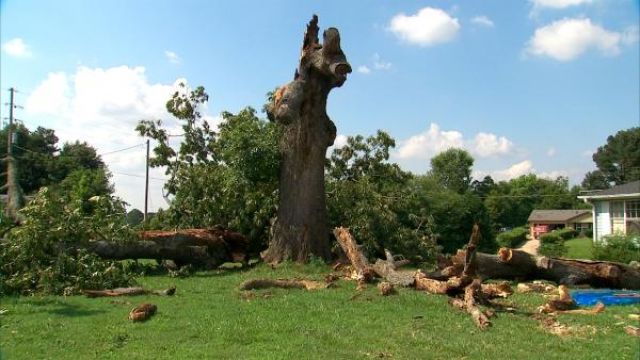 GILLSVILLE, GA (CBS46) -
A Hall County man's family said he was severely injured saving his 6-year-old niece from a falling tree.
Dwight Dupree was in a nearby hospital's intensive care unit on Thursday, according to his family.
Wednesday afternoon, Cara Johnson and her uncle were playing under the large tree in the Johnson's front yard on Rolling Ridge Drive in Gillsville.
Cara said she heard the tree start making a strange noise and her uncle told her to run. He made sure she got to safety, but Dupree was hit by a large tree limb.
Her brother, Josh Johnson, 16, was in the house and said it felt like an earthquake. He said he ran outside to find his uncle on the ground. He said he moved the limb out of the way so paramedics could get to his uncle.
Jeff Johnson, the children's father, said several years ago lightning hit the tree twice. He said by looking at the inside, it appeared the tree was rotting.
Initially, the family said doctors thought Dupree hurt his back. They said doctors then realized he had a cracked spine and a lot of internal bleeding. Dupree underwent at least four hours of emergency surgery early Thursday morning. The family said he was in stable condition Thursday night.
Copyright 2013 WGCL-TV (Meredith Corporation). All rights reserved.