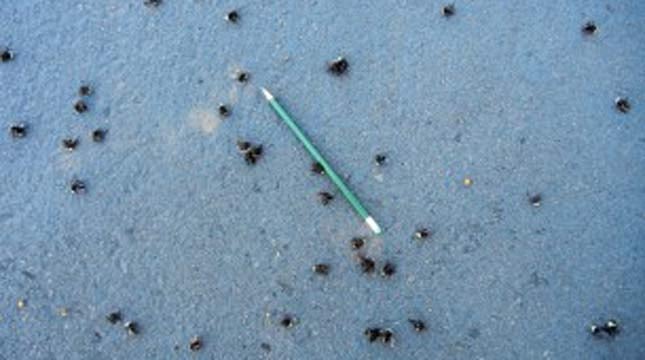 HILLSBORO, OR (KPTV) -
A week after 50,000 bees were found dead in a Target parking lot, hundreds more bees were found dead next to a tree in Hillsboro.

Hillsboro city officials said the tree on Southwest Washington Street between Fourth and Fifth Avenues had been sprayed with a product called Safari back in March. That's the same product used on trees at a Target store in Wilsonville, where 50,000 bumblebees were killed earlier this month.

City crews in Wilsonville wrapped the trees in a mesh fabric to limit access to the bees.

Crews in Hillsboro then used that same mesh to wrap the tree on Washington Street on Saturday.

"We want to prevent as many bees as possible from getting to that tree," said Patrick Preston, a Hillsboro city spokesman.

It's not clear yet whether pesticide poisoning from Safari is to blame for the Hillsboro bumblebee deaths. Safari was also used on a number of other trees in the area where no bumblebees were found.

The Oregon Agriculture Department took samples and is expected to perform tests on the samples this week.
Copyright 2013 KPTV-KPDX Broadcasting Corporation. All rights reserved.