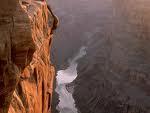 GRAND CANYON NATIONAL PARK, AZ (CBS5) -
A series of breaks in the Trans-Canyon Water Pipeline has created a water shortage at the Phatom Ranch at the bottom of the Grand Canyon.
Hikers heading to the Phatom Ranch must carry in their own water or be prepared to treat water that will be consumed.
The Phatom Ranch has also canceled all overnight services until the pipeline problem has been fixed. The National Park Service is expecting the pipeline water problem to be fixed as early as Saturday, June 29.
All of the Grand Canyon National Park hiking trails are open but hikers should be prepared as there is an excessive heat warning in effect starting at 10 a.m. on Friday and running through 8 p.m. on Sunday. The weather service is expecting temperatures to reach 114 to 117 degrees within the park along the Colorado River.
The National Park Services said all other park services are open as normal. They again want to remind all visitors and hikers to be prepared and carry extra water.
For more information you can call the information hotline at 928-638-7688.
Copyright2013 CBS 5 (KPHO Broadcasting Corporation). All rights reserved.