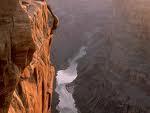 Phantom Ranch at the bottom of the Grand Canyon has suspended overnight services because the pipeline supplying water is leaking.
National Park Service officials say that's creating a water shortage at the historic overnight spot in the canyon.
The Trans-Canyon Pipeline carries water throughout the canyon.
Park officials said Friday that the pipeline has a series of breaks two miles north of the ranch, causing park officials to shut down overnight operations.
Crews are working to fix the problem and the water is expected to be restored by Saturday.
All canyon trails remain open, but park officials caution hikers going to Phantom Ranch or the Bright Angel campground to be self-sufficient.
They say hikers should bring plenty of water and the necessary water filtration equipment to treat natural running water.
Copyright 2013 Associated Press. All rights reserved.