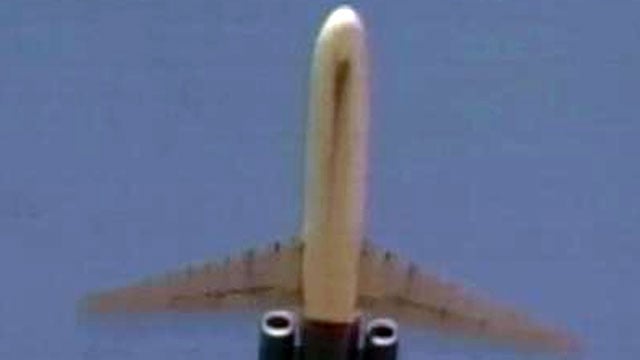 An airplane takes off from McCarran International Airport in Las Vegas in this undated image. (File/FOX5)
LAS VEGAS (FOX5) -
An unruly passenger Monday night diverted a flight out of Las Vegas that was originally bound for Charlotte, NC, to Albuquerque, NM, according to officials.
Dan Jiron, spokesman for the Albuquerque International Sunport, said the man was inquiring about smoking on the plane and became disruptive. He said the U.S. Airways pilot decided it was necessary to divert the flight about 1:45 a.m. Tuesday.

Jiron said the man was taken off the plane and interviewed by local FBI and Transportation Security Administration agents before being released without charges.
The man then boarded an American Airlines flight bound for Chicago from Albuquerque on Tuesday morning, Jiron said.
According to a report from KCTV, the man's second flight was diverted to Kansas City International Airport on Tuesday morning after authorities said the he tried to exit the plane in an effort to have a smoke.
The flight that originated in Las Vegas was allowed to continue to Charlotte after a nearly two-hour-long delay, Jiron said.

The man's identity was not immediately released, but KCTV reported the man was from New York.
Copyright 2013 KVVU (KVVU Broadcasting Corporation). All rights reserved.