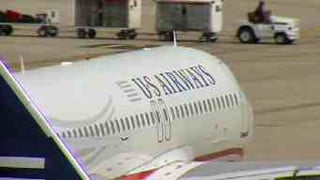 TEMPE, AZ (AP) -
Traffic on US Airways jumped 7.3 percent in June, but a key revenue measure rose more slowly and indicated that average fares aren't changing much.

Passenger revenue for every seat flown one mile rose 1 percent. That's a closely watched statistic in the airline industry, and it rises when an airline fills more seats or sells more tickets at higher prices.

The revenue statistic fell 4 percent in April and 1 percent in May, so June marked improvement for US Airways Group Inc.

The airline said Wednesday that passengers flew 6.25 billion miles last month, up from 5.83 billion miles in June 2012.

Traffic grew faster on U.S. flights than international trips overall.

US Airways expects to close its merger with American Airlines parent AMR Corp. in the next several weeks.
Copyright 2013 Associated Press. All rights reserved.