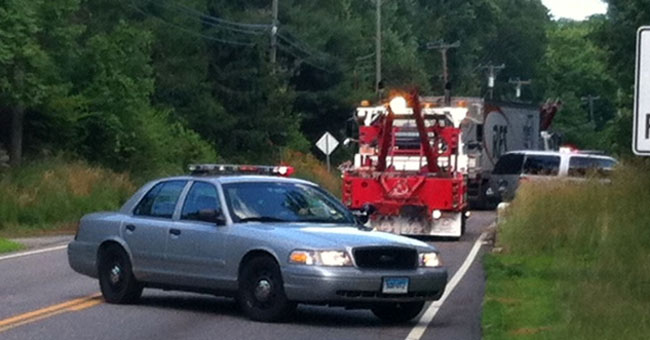 EASTFORD, CT (WFSB) -
A driver was seriously injured and a significant portion of Route 44 in Eastford Friday afternoon was shut down after a tractor-trailer careened into the woods.
Route 44 is closed between the Ashford town line and Old Colony Road after a tractor-trailer went down an embankment around 1 p.m. It crashed near to a river that leads to the water supply of several towns.
"It went straight in there, buried in there," said witness Ward Iverson. "I can't believe it didn't roll over."

The driver was out of the truck when emergency crews arrived and he was taken to an area hospital by ambulance.
The tractor-trailer took down power lines and was leaking fuel, police said.
Connecticut Department of Energy & Environmental Protection were called to the scene to investigate the leak and make sure none of the fuel seeped into the Bigelow Brook.
DEEP crews took samples by brook, but the investigation is not expected to be completed in the near future.
Route 44 remained closed for almost five hours.
The cause of the crash is under investigation by state police.

Copyright 2013 WFSB (Meredith Corporation). All rights reserved.