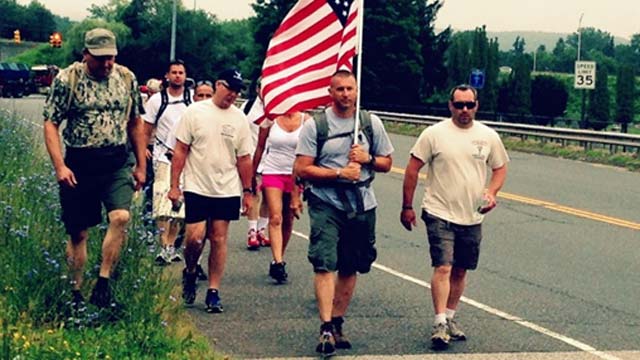 WILLIMANTIC, CT (WFSB) -
Sgt. First Class Micah Welintukonis started a 60-mile walk to raise money for three veteran organizations Tuesday, the one-year anniversary of him being shot and taking the brunt of a suicide bomber explosion in Afghanistan.
Welintukonis spent nearly 50 days in military hospitals, and another 60 as an outpatient as he awaits another surgery.
The 60-mile walk Welintukonis is conducting is not for himself, but rather to support each local VFW he stops at, or another participating VFW.
He said the money will support that organization, which works on behalf of American veterans by lobbying the United States Congress for better healthcare and other benefits.
The money raised will also go to support local chapters of the American Legion as well as the Wounded Warrior Project.
Welintukonis said he is currently a member of all three organizations.
For information on how you can help support Welintukonis on his walk, click here.
Copyright 2013 WFSB (Meredith Corporation). All rights reserved.